The twilight zone contains a real mixture of animals and a few plants. Algae, lichen, and bacteria are often found in the twilight zone. Springtails and mites feed on the algae and rotting plant debris. Mushrooms, ghostly versions of their surface relatives, may also be found in this region. Harvestmen (daddy longlegs) hang out in cracks and domes in the ceiling and crickets may find convenient alcoves to hang out in, waiting to leave the cave at dusk to feed. Several accidentals such as snakes, frogs, and surface insects can be found in this region, having wandered or fallen into the cave.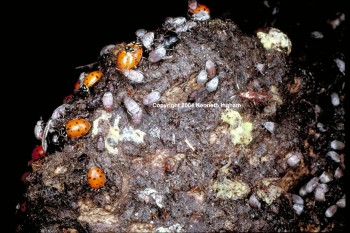 Click on Picture for Image Information
This community of all sorts of animals is an example of a twilight zone community.