Guano in caves often means feces (poop) from bats, but it can also be from cave/camel crickets, beetles, spiders, or other invertebrates. Guano is a rich food resource in the cave environment, so while it may not be your idea of a great meal, many insects and other invertebrates find guano very yummy. The guano in Bat Cave in Carlsbad Caverns National Park has over 10,000 mites per cup of guano at the height of the season in July! Other animals that you can observe in or on the guano include camel crickets, darkling beetles, rhadine beetles, fleas, flies, wasps, guano moths and larvae, and isopods. It's a real zoo!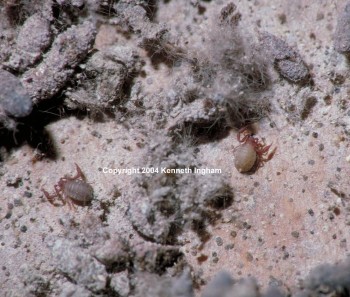 Click on Picture for Image Information
This community of psuedoscorpions is an example of a guano community.