---
| | |
| --- | --- |
| Rainfall | Click on the Picture for Larger Image |
---
Caves formed from rainfall are called epigenic caves. Epigenic caves are formed in the following way:

Step one: Rain seeps into the surface of the earth.

Step two: The gas, carbon dioxide (CO 2 ), is released by dying vegetation in the soil.

Step three: The rainwater absorbs the carbon dioxide ( CO 2 ).

Step four: A chemical reaction begins that makes the water into a weak carbonic acid .

Step five: The carbonic acid eats away at rock by dissolving the limestone.

Step six: A cave passage is formed.

Look what happened in Hidden Cave after a rainstorm, pretty easy to see how rain helped form this cave!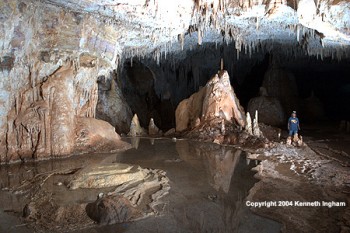 Click on the Picture for Image Information
If you'd like to see an animation of this, go to:
http://earthsci.terc.edu/content/visualizations/es1405/es
1405page01.cfm?chapter_no=visualization