---
| | |
| --- | --- |
| How Are Caves Decorated? | Click on the Picture for Larger Image |
---
How Does Water Help Form Cave Decorations?
One of the most incredible and beautiful things about caves are their decorations.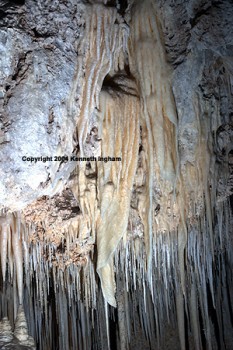 Click on the Picture for Image Information
This picture shows'draperies' and 'stalagtites' pretty IMPRESSIVE, huh?
After surface water enters the cave it releases the carbon dioxide it has picked up from its passage through the soil. This release of carbon dioxide leads to the precipitation of calcium carbonate dissolved in the water and the growth of carbonate speleothems.
The shape of carbonate speleothems is controlled by water in several ways, including: dripping, flowing, seeping and pooling. Click on the words below to see how each one controls how a speleothem is shaped.
Click here to go to the Limestone and acid Activity