---
| | |
| --- | --- |
| What Are Cave Decorations? | Click on the Picture for Larger Image |
---
There are at least 255 minerals documented from caves that make up a variety of speleothems.

Since many caves are formed in limestone and dolomite, carbonate minerals form the majority of speleothems.

Popcorn, a type of speleothem not the snack, on the wall of Lower Cave, Carlsbad Cavern. This speleothem is made of calcium carbonate.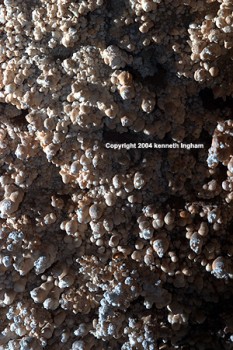 Click on the Picture for Larger Image
Calcite is the most common mineral found in the cave formations that occur in the Rocky Mountains. But sometimes aragonite, which is made up of the same chemical elements but is built differently, is found in these speleothems too.