---
| | |
| --- | --- |
| Nutrient Cycling | Click on the Picture for Larger Image |
---
Animals and microbes that live in caves need carbon, oxygen, nitrogen, phosphorus, and sulfur. How these elements get into caves and how they move around through the food web, is what's called nutrient cycling.
If the cave passages are filled with air, then oxygen is available to organisms. Some microorganisms live deeper in the soil or rock where oxygen is not available—they're called anaerobes and live without oxygen.
Carbon comes in two forms: organic (like dead plant matter) and inorganic (the carbon dioxide or CO 2 ) in the atmosphere. Depending on whether the cave has a stream or river running through it, a lot or a little amount of organic carbon can enter in the form of dissolved organic carbon (DOC) or in particles of detritus (pieces of dead matter, either plant or animal). This organic carbon provides a wealth of food for invertebrates and heterotrophic microorganisms. Organic carbon also enters in water dripping from the ceiling that's come down through the overlying rocks. Animals die in the cave and provide organic carbon (got to love that dead stuff in a cave!). You shed skin and hair that provides food when you visit the cave.
Nitrogen is available in the cave atmosphere in the form of nitrogen gas, but it takes a special kind of microorganism, a nitrogen fixer, to be able to convert this nitrogen to a form that's useful to most organisms. We don't know much about nitrogen fixers in caves. Some forms of nitrogen are available in the rocks that make up the floor, ceiling, and walls of the cave and some microorganisms can use that nitrogen. Microorganisms can also scavenge nitrogen from dead organisms. Some invertebrates scavenge their nitrogen from dead insects or other animals, while others get it from dead plant material.
Sulfur is an especially interesting element in caves. Some caves have hydrogen sulfide venting into the cave.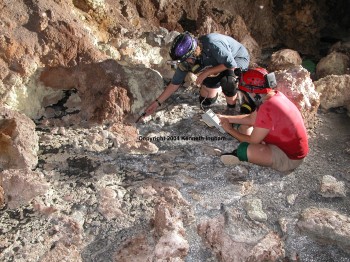 Click on the Picture for Image Information
There are a variety of microorganisms that think that hydrogen sulfide is the best food in the world!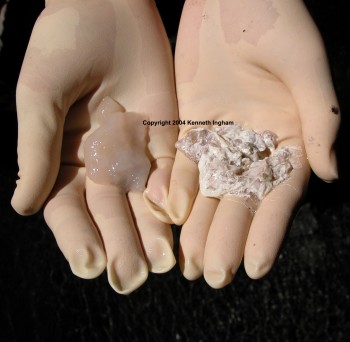 Click on the Picture for Image Information
They hang out at the interface between the oxic and anoxic zone and "eat" the hydrogen sulfide, converting it to other forms of sulfur including sulfuric acid. We think that this is how the big caves such as Carlsbad Cavern in New Mexico were created, by the action of sulfuric acid created by microbes and chemically. The sulfate in the sulfuric acid can be reduced back to sulfide by microbes called sulfate reducing bacteria. You find these bacteria in black muds in stream bottom.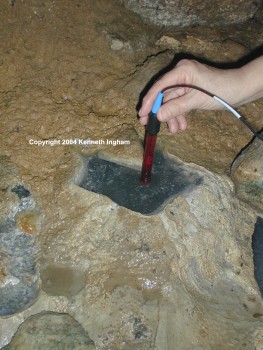 Click on the Picture for Image Information